Capitalizing on the trend of affluent Mongolians spending their leisure time outside of the city center, the 10,000 square meter development, The Village @ Nukht, is designed to fill a gap in retail and entertainment offering in Ulaanbaatar.
It is forecast to become the premier, family oriented retail and entertainment destination, offering a shopping and dining experience that is combined with cultural and leisure activities.
Like a rural village, the social focus will be in and around the 8,000 square meter square – which will host annual events, musical shows, cultural performances, weddings and special events. The interior courtyard not only provides access to the shops, restaurants, offices, luxury residences, and entertainment venues, it also provides a protected outdoor open space for visitors to enjoy the ample sunlight and fresh air of the countryside.
Nukht has traditionally served as a holiday region for former government officials and their families. However, in recent years a number of prominent families and affluent Mongolian businessmen have relocated to the area. Despite this influx of wealthy residents, there are currently no high-end retail units, fine dining options, or entertainment outlets to be found near the location.
The Village @ Nukht
As infrastructure within the center of Ulaanbaatar fails to cater for the rapidly increasing number of vehicles, navigating the downtown area has become an impossible task. Consequently, this congestion has contributed to some of the world's worst pollution levels within the central business district. There is an urgent need for alternative office space and the Village @ Nukht will provide a more congenial experience.
The infrastructure problems have led to a migration of sorts out of the city center. The widening of the Yarmag Road (six lanes) will be completed in 2013, and plans are already in place for further complementary retail based developments along this main thoroughfare, reinforcing the critical mass of the whole area as the most attractive lifestyle and retail development in Ulaanbaatar.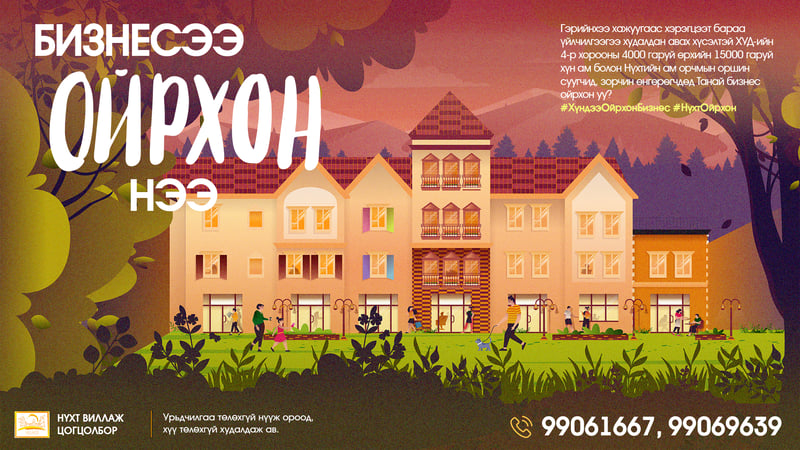 COMMERCIAL SPACE FOR SALE